What I did for a week in New York City
Arrival
My flight was scheduled to leave Cleveland around 9:00am. Knowing, I would have to be there around 7:30/8:00 and still had a lot to pack and clean before, I decided to wake up at a nice and easy 3:00am. After getting most of my stuff done, I went to the American Airlines app to check-in, only to find that my flight would not be leaving until 12:000pm. Awesome.
The same thing happened to me on my way back home. My flight was delayed by 3+ hours. I know travel stories like this are boring but I just want to put American Airlines on blast. Because despite having 6-9 flights a day from CLE to LGA. They always get delayed. Last year, I took an AA flight to NYC for an interview and after hours of delays, our flight was cancelled and I had to fly out the next morning. Meaning that I had to fly in and out the same day for an interview.
Ok, so now I'm in NYC.
I stayed at a friend's home, while her and her family was out of town. She mailed me the keys ahead of time because she's a true queen. Her home is in Cobble Hills/Carrol Gardens area of Brooklyn. It's fairly quiet and very close to Brooklyn Heights, which is a little more hustle and bustle. It was also very quick to get into Manhattan via Lyft – not public transit. In a car, it was a 10 min drive to Chinatown.
After settling in, I did what I always do the first day I travel, I just started walking and exploring the neighborhood I'm staying in. I walked to Brooklyn Heights and walked along the Brooklyn Bridge Park Pier, which was virtually empty and had some great skyline views.
Having been up since 3am and traveling, I was exhausted by 8:00pm and went to bed.
Day Two
Brooklyn Museum: Frida Kahlo: Appearances Can Be Deceiving
Thanks to following random influencers, I figured out that there was a Frida exhibit at the Brooklyn Museum while I would be there. From Mymodernmet.com, the exhibit will share "Kahlo's story through three main channels: revealing photographs, iconic paintings, and authentic artifacts." It is the largest exhibit of Frida exhibit in North America other than her own home, La Casa Azul, now a museum in Mexico City. I have had the pleasure to visit La Casa Azul, and other than not being in her home, and missing the beauty of Mexico and the magic of being where she used to live, this exhibit does compare well. I think this article is the best at explaining the exhibit and the importance.
My second day in New York, was the only day it snowed. And it snowed all day. Despite that, I decided to walk 2-3 miles towards my home for the week. It was a beautiful walk, going through Park Slope. I stopped at a cafe for coffee, sandwich, and to warm up. But when I stood up, I knew I could not walk the 1-2 miles home. My feet were dying. I wore my fake Frye boots, and they were the only non heels, non running shoes I had for the week. Big mistake.
I ended up taking a Lyft the rest of the way home, and I was so freaking sore. After two or three very long walks in my fake Frye's, my feet hurt but my hips were screaming. Because I am super out of shape and I don't walk anywhere in Cleveland. The walking and choice of shoes was wreaking havoc on my body.
But I couldn't just take a bath for hours. Back in December, I started listening to a podcast, The Babysitter's Club Club. You can figure out what it's about. And midway through bingeing it, they started advertising for their first live show in February, and it was very fortuitous that I would be there at the same time. It was at a cute bar not far from me in Brooklyn. But as soon as I got there, I knew I wouldn't make it long. 1) No open chairs 2) See above for my hip and foot pain and 3) I was already a little buzzed – all combined with hanging out alone at a live show for a podcast about the Babysitter's Club books is a little awkward. You'd think it would be less awkward for me, as a woman, but the audience was largely men, perhaps due to the fact that both hosts are men in their 30s. So I stuck it out for an hour and half, it was fun. But I could not stand a minute longer and I went home midway through the show.
I tried my hand at drunk Bumbling, but that did not go well. Well on the positive side, there are so many more people there to choose from. I got so many matches. And of people I would actually be attracted to. But I had so much planned for the week and was usually tired by 10pm every night so I didn't feel the need to go out with anyone.
Day Three
In the morning, I worked out of a cute café, Swallow, in Brooklyn Heights. In the afternoon, I went to my friend Melissa's house in Williamsburg, to see her for the first time in 15 years. Melissa is a comedian, writer, and actor based in Brooklyn. To hear the back story of my friend Melissa and I, you can read it here. Basically, we used to be tennis doubles partners, we haven't seen each other since we were 15, and we just reconnected this summer via social media and just did her website!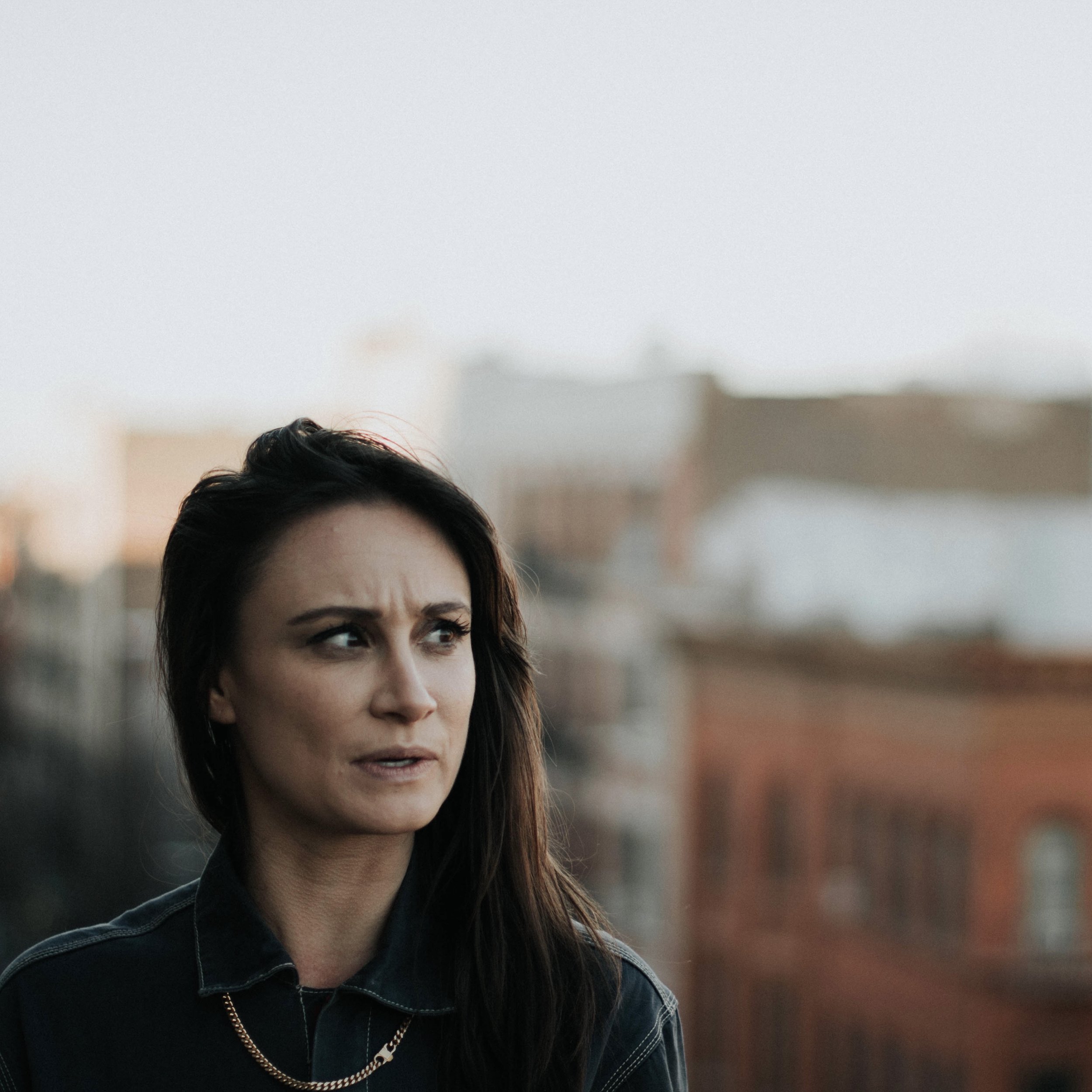 It was very fun catching up with her in person. We got to do a BEAUTIFUL photoshoot on her fire escape, which was a fantasy I did not know I had. Later we recorded an episode of my podcast, which I have since lost the audio file to because I am an idiot.
She invited me to her friend's restaurant opening later that night. I met her down in Chinatown a few hours later at her friend's second location of Kiki's. I came late and arrived to a table full of the entire menu. Kiki's has great Greek food and it's very affordable. I got the chance to meet her and she is SUPER sweet and warm. I would assume that a multi-restaurant owner in NYC would be at least a little cold. But Kiki was super kind and welcoming to me, despite being very busy.
Day Four
I spent the morning in lower Manhattan. I went to the Beekman Hotel to get a pretty picture but that proved to be very difficult and I got a shitty one. I walked from there, through SoHo, for about an hour or more.
Side note: I struggled with getting to Manhattan restaurants. So many of them didn't open until 5pm. And when I wanted to go, I found out that I needed to get reservations at least a week ago. But this is where I should have gone to Bombay Bread Bar, a recommendation from Shibani at Bombay Taxi Boutique. Sadly, I forgot.
I took a train up to the Upper West Side to meet a client of mine, Tiffany, for a photoshoot! This was another highlight of my trip. I had been working with Tiffany on her brand and website since December. Tiffany is very fun to work with and really lovely. When I figured out that I would be in town I offered to do a photoshoot with her, which had been a major pain point for her in branding her social media strategy company – not having professional photos. Knowing that I had a photoshoot booked and would be paid for on my trip felt like I was a legit photographer and business owner. It was also very fun getting to meet a client in person. The photoshoot went really well and we got some beautiful photos. I love the Upper West Side. My earliest memories of NYC are there. The summer I was 17, I spent a week at Barnard to do a pre college program. If you're not familiar, Barnard is the women's college on Columbia's campus (because back in the day women weren't allowed to go to Columbia). Anyway, I love the brownstones and Central Park. It was great to go back up there.
That night, I went to Halyard's bar to see a stand up show Melissa hosts, Bitch's Brew. The bar was cool. Most of the bars I went to in Brooklyn, reminded me of most bars in Cleveland or just the Midwest. Simple but trendy. Lots of good beer options. But nothing special.
The show was hilarious. Melissa did a set, which was very fun to see her perform. And five or six other funny comedians after her. Bitch's Brew is every Friday night at 8:00pm at Halyard's and it's a FREE comedy show in Brooklyn. It's a very good deal. But I do recommend brining cash to throw in the basket after the show for the comedians.
Day Five
In the morning, I caught up on some work and went to a shoe boutique in Brooklyn to get some freaking sneakers! I wasn't in as much pain as the first or second day, but I definitely needed more comfortable shoes.
The night before, I figured out that my cousin (my stepdad's niece), Emma, was also in New York City for the weekend. Emma is ten years (give or take) younger than me and I've known her since she was four years old. Now, she's almost 20, and it's been really cool to see her grow into a young woman. She's also been my key point person at family dinners to make jokes about our family.
So we met up in Washington Square Park with her friend who she was staying with. We bopped around a few bars in the area. We started by stumbling into Burp Castle, a small, very quiet pub in the East Village specializing in Belgian beers. And when I say quiet, I mean like library quiet. And when the volume of the bar gets too loud, the bartender uses a SHUSH machine to quiet everyone down. Of course, I didn't know that when we went there. I would never go somewhere that would require me to be quiet. And it took us a few "shuh"s to figure out what was going on. The "shush" sounds a lot like an espresso machine, and we while we definitely asked each other "Wait, what's going on? Did he just shush us? We brushed it off as the sound of bar equipment releasing air. But after the third time, Emma looked up Burp Castle online and read the reviews and figured out what was going on. We cashed out soon after LOL. Not because we didn't like the bar or took the 'shush' personally, it just wasn't going to be good for us. I say all that to say, it's definitely a cool place that you should check out, especially if you love Belgian beer, which I do. But I would not go there if you're looking to rage. Or even get excited/loud after a few beers.
From there, we hit up a few other bars. Did some other stuff. Our adventures were limited, because Emma is not quite 21. We ended up on St Mark's, which felt cathartic. On my cab ride home, I almost started crying.
Side note: I had bought tickets to the Color Factory but ended up skipping it to hang out with Emma and she couldn't get tickets because it was sold out for the day. :(
Day Six
Liz and her family were returning on Sunday, the day before I flew out, so I had to get an Airbnb for the night. Before I left Liz's place, I did sneak up to her rooftop patio, which was closed for renovations to get some cute selfies.
I got an Airbnb in Bushwick. I stayed at a place that I stayed a year earlier when I was in NYC for a night before flying out to Europe, and I fell in love. It's a super cute studio in a historic mansion. I love the tall ceilings and the quiet building. It's really affordable for NYC. After all the fees, I spent about $100 for one night. I totally recommend staying here.
I wanted to go out on my last night, and I found the closest bar to me, The Evergreen, was about a 10-minute walk. It was cute. Very small and dark. When I got there, I was the only person there, for at least an hour and half. It started to pick up and I met a "friend" for the night. But I didn't make it long after all the cool kids got there, as I had been drinking for a while at that point. But it ended up being a fun, albeit uneventful, night.
Day Seven
On my last day, Liz met me for coffee. We hadn't seen each other in almost a year so we had lots to catch up on. After a few hours of caffeinated conversation, we needed to mellow out with pizza and wine. We went over to the other side of Bushwick to Robertas Pizzeria, which was REALLY good. Probably a little better than Il Rione. I was sad that the cheapest glasses of wine were $15 and I couldn't get tipsy before my flight. But I highly recommend hitting up Roberta's if you're in Brooklyn.
And then I left to come back to Cleveland. Very, very sad. But I think I will be back very soon!
Some things I wanted to do but didn't get the chance:
Like I said above, restaurants were hard for me to do because of reservations and lines and poor planning on my part. I actually did most of my eating at Liz's house, which made the trip extremely affordable. But I would like to go to Misi in Brooklyn and Don Angie in Little Italy.
Overall, I would like to spend more time in neighborhoods in Manhattan like Lower East Side/East Village, Greenwich Village and West Village, and Chelsea. I got to check most of them out but If I would like to be more immersed in that area of Manhattan.